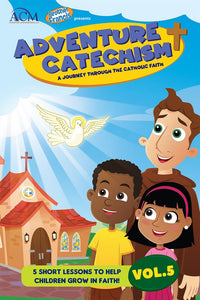 Adventure Catechism Volume 5 - Reader
The Adventure Catechism series will give children a basic overview of the catechism, while strengthening their faith. This reader is based on volume 5 of "The Adventure Catechism" series DVD.

Topics include:
"What is Penance?" Learn how penance heals the wounds and habits brought on by sin and leads us to true repentance.
"What is the Act of Contrition?" Understand what it means to be contrite, and how important a role humility plays in the forgiveness of sin.
"What is Confirmation?" Just as the apostles received the Holy Spirit at Pentecost, and were empowered to change the world, the Sacrament of Confirmation bestows on us the grace to do the same.
"What are the Gifts of the Spirit?" We aren't always aware of the amazing graces that God has made available for us in Baptism and Confirmation. Understand the Gifts of the Holy Spirit, and experience God's power in our daily lives!
"What are the Virtues?" The more we practice the virtues, the better our walk with God and others will be! Learn about the Cardinal Virtues and how they guide our actions.

Adventure Catechism Volume 5  is the fifth in an 8-part series, designed to take children on a journey through the Catholic faith!
Designed for children ages 5 to 10.
Full color, laminated softcover
Dimensions: 9x6"
---
We Also Recommend